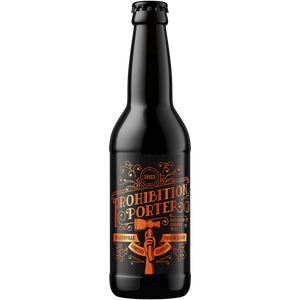 CASE 12x330ml Bottles (12% ABV)
An entire case of the 2022 vintage Prohibition Porter - Excellent cellared and kept for up to 20 years! 
While insipid bootlegged ales were axed by the pious, sly grog shops and speakeasies continued to serve the good stuff. Those in the know indulged in tipples made all the more sweet by their illicit nature, like this richly textured Prohibition Porter. Secreted in charred oak bourbon barrels it envelopes your tastebuds in chocolately brown malts before steamrollering them with a heady amalgam of oak and caramel.